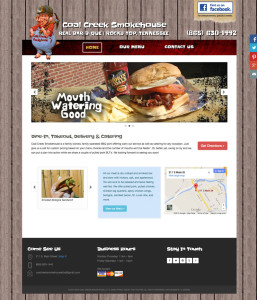 T2 Design was delighted to create a responsive and smokin' hot website for some friendly folks at Rocky Top, Tennessee's newest eatery.
Coal Creek Smokehouse is a family-owned bar-b-que joint, with mouth-watering pulled pork, ribs, wings and savory side dishes. We were lucky enough to feast on all the fixin's and let me tell you, it is worth a visit to Rocky Top!
Need a responsive website or brochure for your new business? We'd love to help you out. What does responsive mean, you might ask? A responsive site automatically adjusts to look fantastic and work properly on all devices, from desktop computers, to tablets, to smart phones. Contact us today!