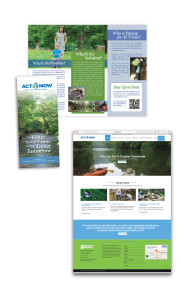 T2 Design was given the opportunity to work with Hallsdale-Powell Utility District (HPUD) in announcing their ACT Now Program (Alliance for a Cleaner Tomorrow) to keep customers informed during their ongoing ten year plan to upgrade their sewer infrastructure.
T2 Design produced a direct mail brochure to make the initial introduction to the community, accompanied by a responsive website to supply additional details and quarterly progress reports. The website enables HPUD to supply updated information to it's customers over the next decade and introduce sustainable practices that residents in the HPUD service area can utilize to help keep their system at it's best.
Hallsdale­-Powell Utility District's ACT Now Program is committed to helping improve and preserve the local waterways, creeks and streams; not only now but in the future. Their goal is to retain these vital resources for long term sustainability of water quality, drinking water supply, aquatic habitat, recreation, public health and the environment.
Visit the HPUD ACT Now website for more information.